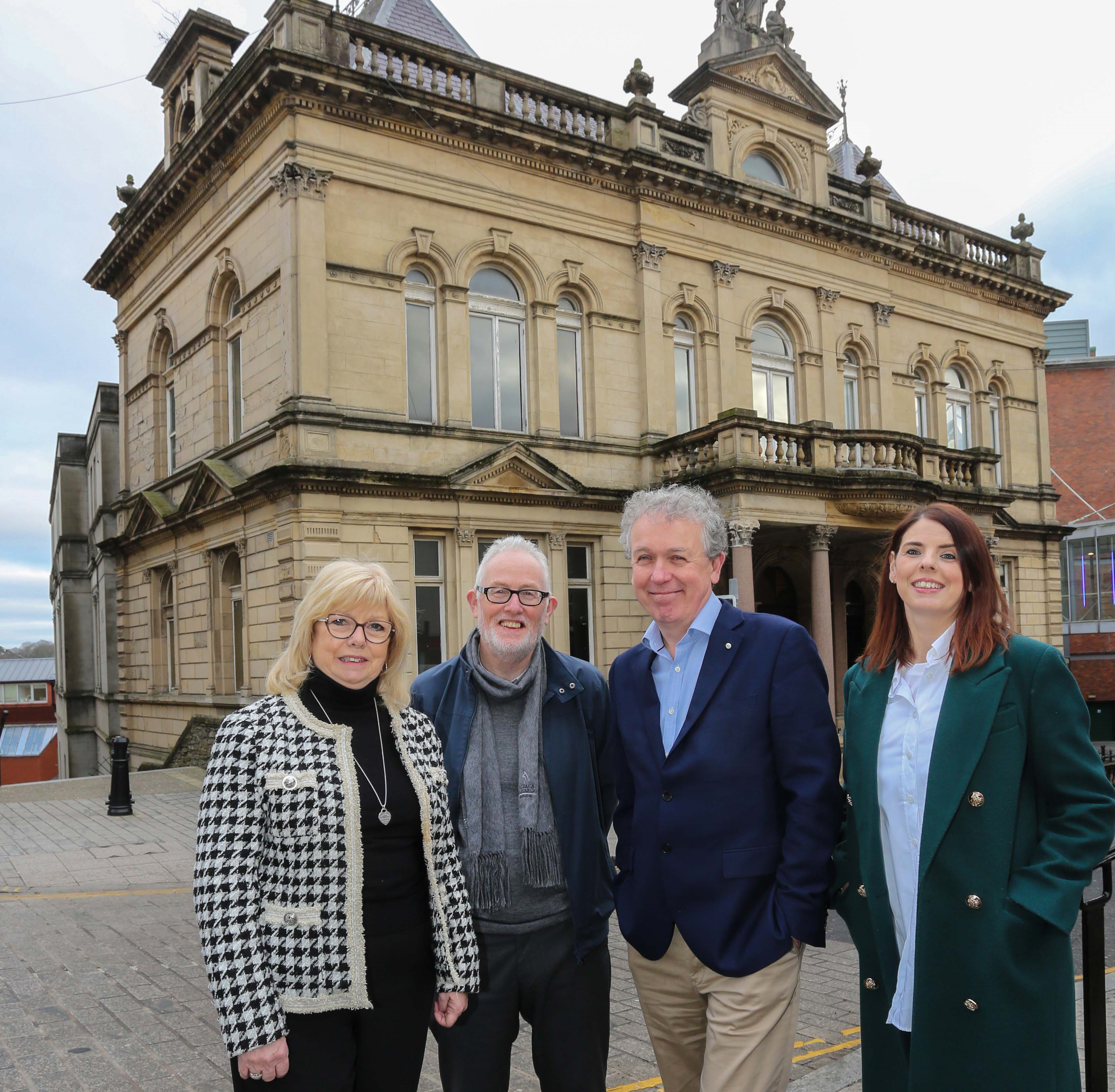 St Columb's Hall, one of Derry's most famed and storied buildings, is to be revitalised with funding totalling £751,727 from The National Lottery Heritage Fund.
The 'Aurora' project aims to reawaken the Grade A Listed Hall by undertaking necessary restoration works to make the building safe and accessible, reconnect the community to the cherished venue through a heritage activity programme and ultimately re-open as a full-time events venue once again.
Having originally opened its doors in 1888, largely due to the donations of locals, St Columb's Hall's overall condition has been in gradual decline, culminating in the decision to cease its hosting of full-time events in 2020. From 2019, St Columb's Hall Trust has been dedicated to sustainably re-open the hall for the benefit of the community. The Trust are committed to re-imagining the Hall as a net zero space with an opportunity for the Hall to lead the way in demonstrating how this can be achieved in a heritage building.
Situated in the heart of the historic Maiden City of Derry next to the fabled 400-year-old Derry Walls, the Hall is an architectural marvel – a mix of Italianate and Gothic. Built in 1886 as a Catholic temperance hall to combat the evils of drunkenness. Since then, it has been a backdrop to the political and cultural history of the City.
Often referred to as 'the People's Hall', the space was immensely popular in its heyday, attracting some of the world's most iconic thinkers and performers, including:
Eleanor Marx-Aveling, daughter of Karl Marx, who spoke at the Hall in 1889 to recruit local workers to join their local union.
Emmeline Pankhurst, who campaigned for women's right to vote in a keynote speech at St Columb's Hall in 1910.
Éamon De Valera, who rallied supporters to the cause of independence in 1924.
Derry tenors Josef Locke and John McCormack, who performed to sell out audiences.
Leading international performers Roy Orbison; Chubby Checker, Ruby Murray and Val Doonican all performed at the venue.
Renowned contemporary artists showcased their work at the acclaimed Orchard Gallery.
Hit TV series, "Derry Girls" filmed some of the shows most famous scenes from Season 3 at St Columb's Hall.
In addition, the Derry Féis, Little Theatre drama group, Derry Pantomime, St Columb's TA Brass and Reed band, and generations of local performers made their performance debuts in this iconic space.
The "Aurora" project will re-establish this community connection to St Columb's Hall, the first phase is completing urgent repair works to stonework and parapet levels on the Hall's western elevation. In addition, St Columb's Hall Trust will work with the community to research the heritage of the hall and its future. The project will create a part time support post as well as giving three apprentices the opportunity to learn valuable heritage maintenance and restoration skills which will be critical in maintaining the Hall in the future.

Dr Paul Mullan, Northern Ireland Director, The National Lottery Heritage Fund said:


"Thanks to National Lottery players, we are delighted to award St Columb's Hall Trust with a grant that will not only carry out urgent repairs to rescue an at-risk building but will also help unlock an exciting new vision for this iconic venue.

St Columb's Hall's heritage and the experiences of its audience and visitors live long in the memory. It's exciting to anticipate a new chapter for "The People's Hall" where employment, new skills, activities and events are on the horizon.

We look forward to seeing the project progress as people discover the venue for the first time or rediscover all that St Columb's Hall offers."
Conal McFeely, Chairperson of St Columb's Hall Trust, said:

"Since its opening in 1888, St Columb's Hall has played a significant role in the lives of the community here and it is imperative that this architecturally and socially important building is protected and is able to thrive.
One hundred and thirty four years after the first "grand concert" was held at St Columb's Hall in February 1889, it is apt that the great cultural events that were once a regular occurrence at the Hall will return again.

St Columb's Hall Trust is working hard to find a new, and sustainable future for the Hall. An important part of that process is looking forward but also recording and acknowledging the efforts of our community in nurturing this wonderful asset over many years.

Thanks to money raised by National Lottery players we are able to complete important conservation work while providing the opportunity to open up more of the Hall's spaces."